Behind the Scenes: PSLA Legislative & Advocacy Efforts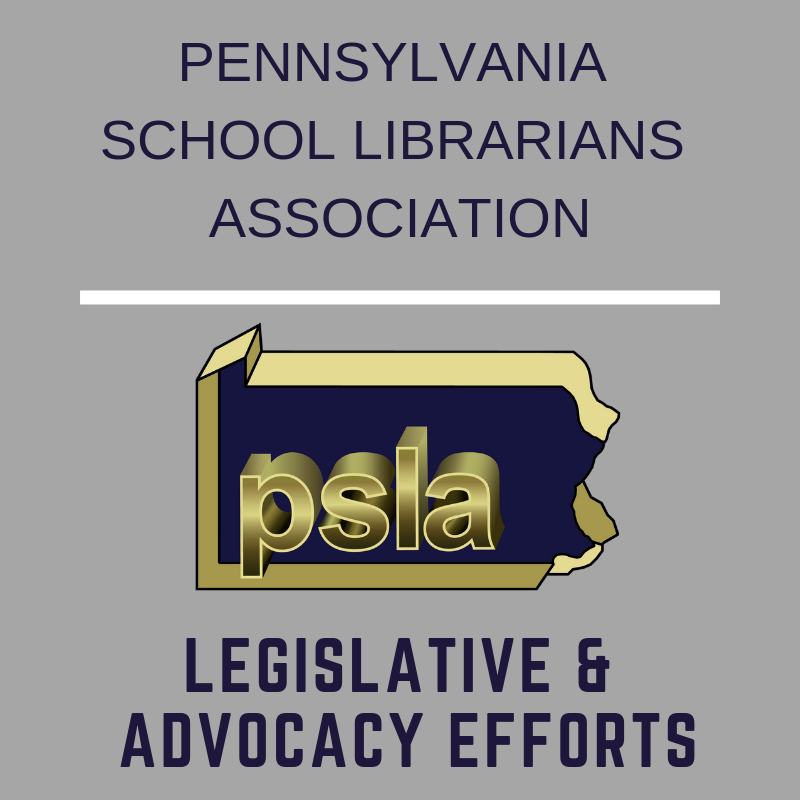 "Behind the Scenes" the Pennsylvania School Librarians Association's officers, board, and committees are working very hard on legislative and advocacy efforts for you. Below are just a few recent efforts. This list is not meant to be all-inclusive.
National
In March 2019, during the SXSW EDU conference in Austin, TX, I will present on a panel moderated by John Chrastka of Every Library, to discuss ways high-level policy can be introduced nationally. Other panelists include Keith Curry Lance, Kafi Kumasi (Wayne State University), and Azadeh Jamalian (Teachers College Columbia University).
Deb Kachel, PSLA's Legislative Liaison, is working with unwavering efforts at both the state and national levels to advocate for school librarians.
State
The PSLA Board and Deb Kachel, have been working with Quantum Communications and legislators at the state level to introduce PA House and PA Senate bills to change the school code to require one school librarian in every school. Last session, the bills were HB 740 and Senate Bill 1269. We begin again with the new session, and we believe we have legislators and co-sponsors to introduce bills in both the House and Senate Education Committees.
Over the past year and a half, Jennifer Bates and I worked extensively with the Pennsylvania Department of Education Office of Commonwealth Libraries and the their policy team to make changes and get clarification on CSPG 48, which is the policy staffing guideline that identifies the requirement for a certified librarian to supervise any library program in a district in the Commonwealth. After several revisions, language that allowed an aide or any certified teacher to provide library services was removed.
Last spring, our Teaching and Learning Committee developed an advocacy pathway and resources for challenged/eliminated position support.
In November, I presented information about the need for school libraries and school librarians to the presidents of a variety of associations including by not limited to the following: PSBA, PAC-TE, PSA, PAIU, and PASA at a meeting where we were discussing the Chapter 49 Regulations.
According to the Chapter 49 Certification of Personnel regulations, PDE allows for certified teachers to pass an appropriate subject matter test to gain certification. Currently, there are three (3) exceptions: special education, health, and physical education, and cooperative education. The State is currently reviewing and revising Chapter 49 and has held several stakeholder meetings across the state. We had one representative, Karey Killian, at the meeting in the Harrisburg area. However, as the PSLA President, the Office of Commonwealth Libraries made arrangements for me to provide individual feedback. From there, I attended several meetings over the past few months with the OCL Deputy Secretary/Commissioner for Libraries as well as members of the Office of Postsecondary and Higher Education and the policy team.
As the PSLA liaison to the PaLA Legislative Committee, I am working with the Pennsylvania Library Association (PaLA) Executive Director and the PaLA Legislative Committee to provide statewide support for public, school, academic, and special libraries.
PSLA gathers data through an annual staffing survey to determine the state of school libraries and school librarians in the 500 school districts in Pennsylvania. With the new Future Ready Index, there is a great possibility to match the staffing survey to demographic and assessment data available in the Future Ready PA Index.
Local
We are currently developing an advocacy toolkit to use with administrators. In addition, we are hoping to curate our website resources to develop a toolkit for legislators. Legislators have told us that the most important way to advocate for school librarians and school libraries is at the local level. Only our members within those districts can do that.
During previous school years, Jennifer Bates, Allison Burrell, Michael Nailor, Eileen Kern, and former PSLA presidents wrote letters to principals and local school boards to impress upon them the importance of maintaining or reinstating school library positions.
When my local school district proposed cutting a library position through attrition, I spoke at the school district school board meeting and read a letter that PSLA requested from the AASL and ALA Presidents to support the replacement of a retiring librarian.
PSLA has also been working with Every Library, a national organization, to support local communities/districts as librarian positions are cut.
I hope you join in with PSLA's efforts. The more passionate members we have who are willing to take action, the stronger our profession will become.
Ever Curious,
Allison Mackley
President, PSLA (PA School Librarians Association)National Board Certified Teacher Librarian Hershey High School550 Homestead RoadHershey, PA 17033
[email protected]
@amackley
Share this post: