Behind the Scenes: PSLA Annual Conference
"Behind the Scenes" the Pennsylvania School Librarians Association Conference Committee has been working over the past year to bring a quality professional learning and networking experience to you at the 46th PSLA Annual Conference.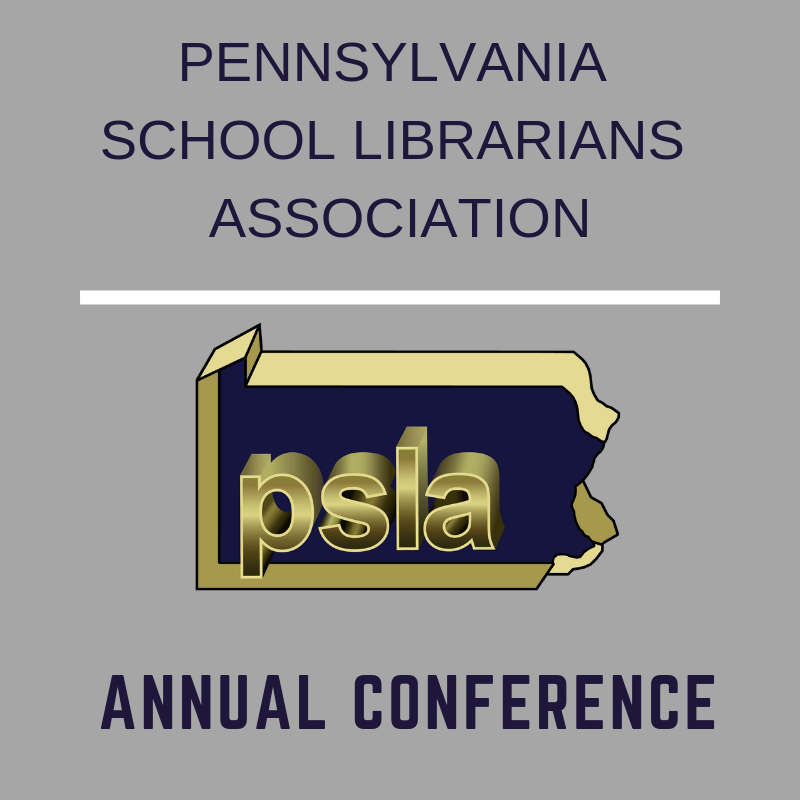 This post will not come close to doing justice to the work the entire conference committee completes over the course of the year, so I will share some highlights. Please visit the conference website for more information.
The Pennsylvania School Librarians Association annual conference is entirely planned, organized and implemented by volunteers. The president appoints an Executive Director of the Conference for a term of two years with the approval by the board. (Conference Policy) For the past four years, Caitlin Linsenmann has filled this role and worked with Jennifer Bates (2016), Allison Mackley (2017), Cathi Fuhrman (2018) and Robin Burns (2019) as conference co-chairs. Before Caitlin took on the enormous task of planning the conference, Connie Burlingame served as the previous Executive Director of the Conference.
Requests for Proposals and Contracts
Believe it or not, typically the conference "request for proposals" are sent out and contracts are signed with the venue five (5) years in advance. This often makes planning difficult because decisions are being made by people who may not be in leadership positions when that conference comes around.  Five years in advance may sound excessive, but in our most recent request for proposals process, at least one venue did not have any dates available for the 2023 conference.  Luckily, over the past three years Caitlin, Cathi, Robin and I visited available venues around the state. Some conference venues were not able to accommodate our request for proposal process for a variety of reasons (planning too far out, not planning out far enough, size of the conference, attendee needs, etc.). We also keep in mind that our state is quite large, so we have discussed and explored moving the conference across the state, but we are unsure about the impact this might have on attendance
For our 50th annual conference in 2023, we found a venue that had what we were looking for. Here's the line-up for the next five (5) years.
2019 – Hershey Lodge and Convention Center, Hershey, PA
2020 – Hershey Lodge and Convention Center, Hershey, PA
2021 – Hershey Lodge and Convention Center, Hershey, PA
2022 – Hershey Lodge and Convention Center, Hershey, PA
2023 – Hilton Harrisburg, Harrisburg, PA
Hopefully, Harrisburg will satisfy potential attendees from all parts of the state. Google Maps tells me it's about a 3 hour and 32-minute drive from Pittsburgh and a 3 hour and 44-minute drive from Bradford. We also want to accommodate the opposite side of the state with a 2 hour and 31-minute drive from the Wallenpaupack area and a 2 hour and 25-minute drive from New Hope.
Keynote and Author Keynote
The PSLA Vice President seeks and develops a contract with the keynote speaker and author keynote between 12 – 18 months in advance of the conference in which they will speak.  Planning this far in advance is often difficult, but decisions are made based on current topics of interest in the school library field. Sometimes the budget is a constraint, but we do our best to bring the attendees quality speakers that appeal to the majority. Authors are chosen on a rotating basis with alternating years focusing on elementary and secondary.
Surveys
Your survey comments matter.  In every instance, we always pose the question, "What will make the best attendee experience?" Sometimes we can't make an immediate change (or a change at all) due to constraints placed upon us. However, the conference committee reads every comment, compiles the comments, makes notes, looks for common suggestions, and acknowledges outliers.
Hotel Rooms at the Conference
When PSLA contracts with a conference venue, we are required to fill a certain number of rooms. For example, when the contract was signed in 2014 for the 2018 conference, we blocked a certain number on the contract. (We have some but very little control over this.) If we do not fill the blocked rooms, we have to pay for the empty rooms. Those funds come out of the conference budget. In addition, the number of rooms our attendees book often impacts the meeting and session rooms that we are able to reserve. In the end, staying in a room at the conference venue helps to make the conference experience and budget more flexible.
Visiting the Exhibit Hall
Please visit the exhibit hall. Our vendors not only help to support our school library field as a whole but they also help to financially support the conference. Without our vendors, many of us would not have the resources we need and the services we can offer our school community.
Some of our vendors are also sponsors who help to offset costs like the WIFI and conference giveaways/prizes. Without them, we would not be able to provide some of the exciting, and even basic, features of the conference. They simply would not be available.  Sending a special thanks to our regular sponsors: Hosting Solutions and Library Consulting (HSLC), Mackin, Junior Library Guild, Follett, and Perma-Bound.
Financial Facts
The PSLA Conference is self-supporting. Some funding for presidential expenses comes from the association. Some conference volunteers who are not able to attend sessions due to their conference rolls receive a discounted rate.
This year, for the first time in several years, there is a $5.00 increase to the active member and non-member conference registration prices. Fees were maintained for retired members and students. The funds will cover an extra snack/drink break and an unanticipated meal increase.
In the end, the conference account generally breaks even. There have been a few years when there was a profit of a few thousand dollars due to cost-effective contracting; however, it is normal for the conference to use the full amount of the funds it receives from conference registration. However, conference registration only covers about 74% of the full cost of the conference. If a profit is made, it goes back into the association and the conference budget for the following year.
A note about meals: Some people, including myself, are surprised by the meal prices whether included in the full registration package or purchased separately. The conference budget receives an average profit of $1.00 - $6.00 for most meals, and this year we will act in a deficit because meal prices increased significantly.
Special Events – Board and Officers
Sometimes it may seem like the members of the PSLA Board of Directors are missing from some of the conference events.  The board spends a full day on Thursday at a board meeting. We attend pre-conference, register at the hotel and attend a Presidential Reception that takes the place of our dinner. The reception allows PSLA leadership, including the board, committee co-chairs, PSLA affiliate representatives, and past presidents to network with the presidents and executive directors of other education/library associations, legislators, award winners, and other honored guests. After the keynote presentation, officers and board directors join the PSLA committee meetings as liaisons and/or ex-officio members.  These meetings begin at 9:00 pm and sometimes go late into the night.
Although most of the board members miss workshop sessions and special events, like the Unconference, evenings are spent planning for the annual business meeting or strategizing about and often beginning the work of initiatives that will take place in the upcoming year. When the board members and committee co-chairs volunteered to take on their positions, they also realized that they would need to make some sacrifices regarding the events they would be able to attend during the conference.
On Friday, leaders of the association also attend an Advisory Council Luncheon Meeting (see Article IV Organization and Government; Section 4 of the PSLA Constitution). During this meeting, time is spent interacting with the PDE Governor's Advisory Council on Library Development and members of the Office of Commonwealth Libraries to learn about state initiatives and share the needs of school librarians.
Following the Advisory Council Meeting is a Governor's Advisory Council on Library Development Open Forum which provides conference attendees the opportunity to hear updates from the Council and to share concerns and accomplishments of school librarians across the Commonwealth.  The PSLA President also shares an association update with the group. 
Conference Committee Volunteers
Did I mention that the ENTIRE conference is run by volunteers? Conference planning begins during the previous conference and continues steadily throughout the year. I can say that while I was co-chair, there were times that I would spend 6- 8 hours a day on conference planning, and there are many others who put aside their personal and professional lives to make the conference experience the best it can be for you.  Here are just a few of the people who have made the conference possible over the past two years. (I know some people will not be on this list…and this is the danger of making the list in the first place.)
Caitlin Linsenmann - Executive Director of the Conference
Sarah DeMaria has been shadowing Caitlin during the past year, as she has been appointed as our next Executive Director of Conference starting July 1, 2019.
Conference Treasurer – Natalie Hawley; Connie Burlingame (former)
Exhibits Hall

Exhibits Chair – Krista Leonard; Betty Greby (former)
Author Signing – Sandy Reilly (lead), Cindy Rizzolino, Jennifer Koishal, and Michele Reutlinger
Drawings/Prizes – Sharon Breeden and Christy Hay

Special Events

Unconference – Robin Burns, Kathie Jackson, Jenn Roth, Mary Schwander, Lisa Weiss, Deborah Brown, and Randy Ziegenfuss
Makerspace – Janice Conger, Heather Lister, and Anastasia Hanneken
Poster Session – Jane Farrell
Conference 101 - Jamie Scott, Jenn Roth, and Jeffrey Weiss
College Awards – Jenn Roth
Awards Breakfast – Lauren Strohecker and Melissa Daugherty

Communication

Program – Karen Fornari and Beth Shenfield
Sched Conference App – Tiff Emerick
Twitter – Corey Hall
Website – Jayne Downing
Email –

Jennifer Nawri and Sharon Breeden; 

Ashley Rudock (previous)
Graphic Design – Heather White

Professional Learning

Moderators – Margaret Tatro
Act 48 – Jeff Weiss
Evaluations - Christina Peterson

Onsite

Registration Chair – Tracy Nelson
Photography - Megan Aranyos
Special Needs – Christy Hay
Technology – M E (Beth) Shenefiel; Dustin Brackbill (former)
National Anthem – Lauraine Lindbloom
As Needed Volunteers – Brenda Blackburn-Foster, Jason Goldberg, Janet Spence, Joan Theal
Thanks to all who have volunteered their time in the past and to those who are working really hard behind the scenes right now to make the upcoming conference a success.
The Conference Committee is always looking for volunteers. Join in on the fun!  Contact Caitlin Linsenmann ([email protected]) for more information.
Ever Curious,
President, PSLA (PA School Librarians Association)
National Board Certified Teacher Librarian
Hershey High School
550 Homestead Road
Hershey, PA  17033
Share this post: